The Monday Morning Report
Complimentary to those with an interest in the Metro Phoenix Housing Market
The Monday Morning Report is a complimentary report on the metro Phoenix new and resale housing market published each Monday by RL Brown Reports, the region's leading housing market data and analysis firm.  Unless otherwise noted, the data and analysis herein is the copyrighted product of RL Brown Reports and may not be republished without permission from the author. However, feel free to share it in its entirety in its original form or request permission to quote from it. 
By RL Brown Reports – Home Builders Marketing, Inc.
Take a moment to view an example of one of our new Competitive Market Area Reports. Clear, concise and accurate, these reports are created with just 1 click for any geographic area or builder profile. We can create them for you or you can subscribe for unlimited reports. See a CMA Report at the link below.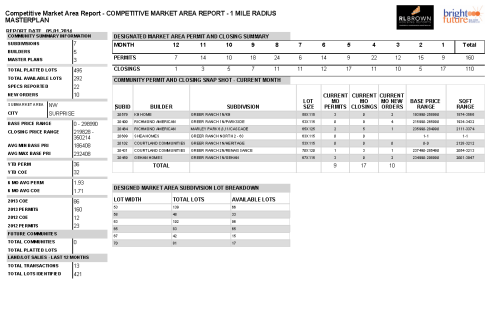 The Monday Morning Report - June 11th, 2018....
Focused Reports Provide Detailed Analysis
As you know, we provide complete updates for the entire market every month. This is one of the many reasons why our products are superior to others who publish housing data here.
We want to offer you a 2 for one deal for those that need a quick report on a specific community. Order your $35.00 community profile report and get a 2nd one for FREE! Simply call or email us with your requested reports and we will have these emailed to you this afternoon. greg@rlbrownreports.com or 480-614-0211. Below is a sample of these easy to read reports. If you are a Magic subscriber and need assistance on how to create these reports, we are available to come into your office or connect with you by phone or web meeting. Your business is our priority, and we can help you create the exact report you need. Below is an example of our community profile reports. This report focuses on Mattamy Homes Westwing Mountain Pradera, a community in the northwest valley submarket area. Plan sizes range from 2,379 Sqft. to 3,621 Sqft. Base price ranges from $338,990 to $392,990 as of May 10th. The report identifies a $4500 price increase over the last six months for each plan. It also identifies the current average base price in this community is $365,657, and the 6-month average closing price after upgrades and incentives is $419,198. The current reported incentives were $5,000 towards options and $5,000 towards closing costs with their in-house lender.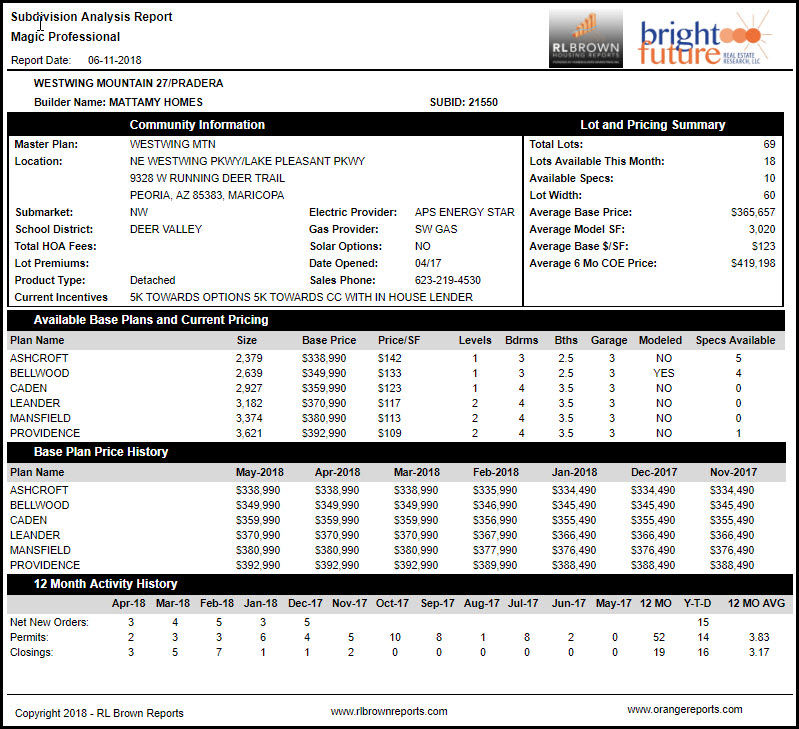 If you are a subscriber to our monthly Phoenix Housing Market Letter, you know we reported a median new home price of $320,687 last month. This number is calculated each month from the recorded new home closings for all of Metro Phoenix which includes both Maricopa and Pinal County.
Does this tell the entire story of new home affordability? The more finite but still big picture snap shot can be found by looking at specific competitive market areas using Magic Professional.
This suggests that if you really want to understand your competition, you need to get "down in the weeds" as a recent colleague at one of the top builders in town put it. They are aggressively pursuing new opportunities to replace lots that are selling at record pace at many of their locations. The challenge is how to remain affordable as land costs continue to escalate in the most sought after areas.
The median price numbers above suggest that new homes are not an affordable option in many areas. We wanted to shed a different light on this perspective. The heat map below identifies concentrations of new homes for sale under $225,000. This would suggest closing prices in these communities would fall well under the median prices identified above. 
We chose $225,000 as the base line number this morning allowing for plenty of room for upgrades while still staying within the current FHA guideline. Virtually all but the northeast submarket have product priced in this category.
There are stand out performers in every price range and every submarket in Metro Phoenix. All you need to do is perform a quick search on Magic Professional to identify where they are located and who is capturing the most market share.
Check out our Lot Inventory Report. Updated Monthly, this report includes all production communities with 10 or more available lots in Maricopa and Pinal County! Available in PDF and excel pivot table formats.
Not a subscriber.... You can order just this report or any of our other monthly executive reports by single issue or subscription. Email or call for more information at greg@rlbrownreports.com - 480.614.0211.
If you are a supplier or subcontractor to the home building industry in this Metro Phoenix area you can get the real details of the market's performance from one or more of our monthly housing market data and analysis reports.
For those who have a need for the all of the market's current and accurate data from best- selling plans, to builder and subdivision rankings plus the ability to perform "treetop data analysis", our map based Magic Professional Housing Data Application is the region's tool of preference… the housing pro's complete research application. 
All of these products are affordable, accurate, and timely and cover the entire region every month.
Subscriptions are available here at www.RLBrownreports.com or by calling Greg at 480-614-0211.
We have the data and the housing related experience to provide real analysis for your proposed new community, land purchase, or real estate investment. You know us by our 25+ year reputation!
Home Builders Marketing, Inc.
Greg Burger – Chief Operating Officer
RL Brown – Founder and Chairman